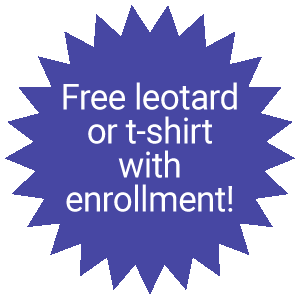 Classes
Pre-school & Kinder Gymnastics
Our Preschool Gymnastics program is aimed at children ages 1-5.  Our primary goal is to create a fun environment where boys and girls build a strong foundation of gymnastics skills to take them wherever they choose to go in sports. We maintain a low child/instructor ratio which allows the instructor to have more time to focus on each child.
School-age Gymnastics
The focus of our recreational classes is to build skills, strength, flexibility, coordination and self-esteem.  Children can progress through a variety of Recreational levels as they develop their skills and confidence.
Girls: Our girls' Recreational Gymnastics program is for ages 6 and up and focuses on the four Olympic events of vault, bars, beam and floor, along with tumble track and other training stations.
Boys: Our boys' Recreational Gymnastics program is for ages 6 and up.  We focus on body position, flexibility, and strength while learning the basic building-block skills on each event.
Developmental Gymnastics
A Developmental Program is in place for girls ages 3-7 who wish to gain the skills needed to join one of the competitive teams.  All girls with a passion for gymnastics are welcome to try out for the Developmental program; contact Monica to schedule an evaluation for your child!
Lunch Bunch
Drop the kids off with a packed lunch and enjoy two hours of "me" time!  The kids will eat, play games, dance, and have a lightly structured gymnastics class, followed by open gym!  Designed for kids ages 3-6.
Tumbling
Progressive co-ed tumbling classes for boys and girls ages 6 and up who want to tumble, tumble, tumble!  Learn skills and drills on floor, tumble track and trampoline, and flip into our foam pit!